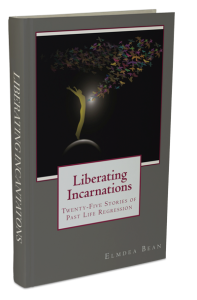 Liberating Incarnations: Twenty-Five Stories of Past Life Regression, 2009, republished 2015.
Six Clues To Your Past Lives is an e-book that walks you through thought-provoking explorations to clarify when and where your soul and essence have experienced other lives.
Guest Blogs
The Heron Magazine, "A Shared Remembering"
Awesomepreneur, "Hey, What's Past Life Regression, Anyway?"
Video: "I Am Free"
Please visit Elmdea's Blog for musings about life and writing, and other miscellaneous bits.